The Mortgage Home Loan Process - Boston, Hanover, MA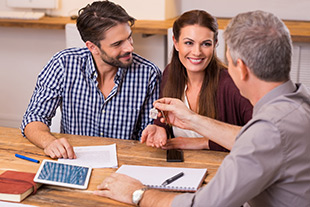 Whether you're applying for a mortgage to buy a new home, purchase an investment home, renovate your current home, or refinance a home, McMullen Group makes the home loan process simple. You can apply online quickly and easily. Our home loan experts are also available to walk you through the application process, and will be your trusted advisor every step of the way.
Plan to Budget Accordingly
When starting the mortgage loan process, your McMullen Group Loan Officer will help you analyze your current financial situation, your short- and long-term goals, and other factors to help you find the most affordable loan. This ensures your mortgage will fit your budget, with payments you can afford. Here are some questions to ask yourself when anticipating your future mortgage and budget requirements:
How much down payment can you afford? The size of your down payment can affect how much your monthly mortgage payments will be, and the interest rate you receive. A larger down payment can mean lower monthly payments and more favorable terms overall.
What is my income-to-debt ratio? Income-to-debt ratio is the amount of income you have compared to the amount of your debt, which includes things like credit card bills, car loans, etc. The income-to-debt ratio is calculated by adding up monthly debt payments and dividing them by gross monthly income. A percentage below 43 percent is generally considered acceptable for obtaining a mortgage.
What is my credit score? The higher credit your score is the more likely you'll receive a lower interest rate during the home loan process. Your credit score plays an important role in the rate you receive, how much loan you can afford, and the size of your monthly payments.
Down Payment & Closing Costs Assistance Programs*
Buying a home may be more affordable than you think. Learn More
As soon as you're ready to start the mortgage process, it's important to minimize activities that may affect your income-to-debt ratio or credit score. You shouldn't make any large purchases, get a new credit card, a car loan, or even change jobs without letting your McMullen Group Loan Officer know.
Find out more about budgeting for a home.
*Certain restrictions apply. Not available in all areas. Please contact your PrimeLending loan officer for more details.
Anticipate Your Monthly Payment
As part of the mortgage process, calculating your monthly payments include four parts: Principle, Interest, Taxes, and Insurance (PITI).
Principal is the initial amount you borrow, then the remaining balance throughout the life of the home loan.
Interest is the fee you pay a lender to borrow the money.
Taxes and how much you pay are determined by your local government tax authority.
Insurance on your home and property is required for all mortgages. Rates are set by your insurance provider.
Taxes and insurance are included in your monthly payment (PITI) if your mortgage is set up with an escrow account. If you choose to use an escrow account, the costs for these homeowner expenses are collected in small amounts that are spread throughout the year. Your lender will use the escrow account to pay your taxes and insurance for you.
With an escrow account, you avoid making a large payment when filing your taxes or making multiple insurance payments throughout the year. If you choose not to use an escrow account, you are responsible for making tax and insurance payments.
Know How the Interest Rate Affects the Payment
The interest rate you qualify for during the mortgage loan process plays a significant role in determining your monthly payment. A higher rate will translate to higher monthly payments. Here are three important considerations that will impact the rate you receive:
Fixed-versus adjustable-rate loans: calculate your options here.
Short-term versus long-term loans: calculate your options here.
Paying discount points: calculate your options here.
As part of the home loan process, getting prequalified for your mortgage before you start house hunting is a great way to get an idea of how much home you can afford and what your monthly payments might be. McMullen Group mortgage experts are ready to help you explore your options so you get you the best home loan to fit your budget.
You can Apply Now to start your home loan process.
You can also contact a PrimeLending Expert or call 781-361-2625.